Protecting Plant Health through Outreach
Here is some good news for the international plant protection community: The United Nations (UN) has extended the International Year of Plant Health (IYPH) to June 30, 2021. This worldwide outreach campaign continues to promote the value of our precious plant resources and the need to safeguard them against invasive pests. Protecting plant health can help end hunger, reduce poverty, defend the environment, and boost economic development. Countries need this extra six months for IYPH outreach because the pandemic has significantly affected communications opportunities and limited face-to-face events.
Despite the pandemic, the North American Plant Protection Organization's (NAPPO) member countries—Canada, the United States, and Mexico—were busy throughout 2020 promoting the year in each country and across North America as a region. Check out some of each country's top 2020 outreach and education accomplishments below. We will have more to come in 2021!
---
Canada
Leading an initiative like the United Nations' celebratory year of plant health offers a complex yet extraordinary opportunity to be innovative with communications and forge new ways of doing business: raising awareness about the importance of plant health and influencing behavior change to support plant health in Canada. Never before has the Canadian Food Inspection Agency (CFIA) demonstrated so strongly to the public our commitment to being a global leader in plant protection.
The IYPH opened-up new opportunities to collaborate internationally and with a broad network of departments, provinces, youth organizations and invasive species organizations across the country. These new relationships will be a lasting legacy for continued partnership communications.
Together, we delivered a large array of communications products and activities - even in the face of the global pandemic. Our activities reflected the bilingual character of our country and reached beyond our traditional audiences to include communications focused for Indigenous communities and youth.
Some of our top highlights of 2020 include:
A Canada-wide array of communications products such as:
videos
articles
blogs
news releases
web content
podcasts
proactive media pitches
social media content
Parsing the year into monthly themes, aligned where possible with our NAPPO partners, allowed each Government of Canada working group member organization to lead communications for a month or two, showcasing their plant health-related mandate. When not in a lead role, the remaining participating partners amplified the lead's messages on their social media channels.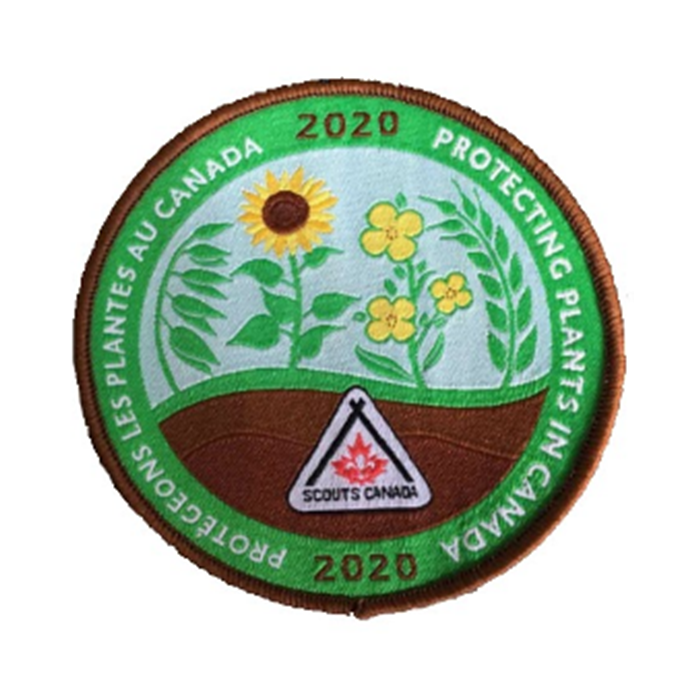 The Canada-IYPH website, which features:

an overview of the IYPH
details on how people can get involved in helping to protect plant health
a section for news releases, podcasts, and related stories, which is updated as products become available
the official IYPH video from the United Nations.

A Scouts Canada crest: Boys and girls across Canada can earn a 2020 crest by taking part in activities that support plant health.
A two-page feature article in Harrowsmith Magazine, one of Canada's premier sustainable lifestyle magazines.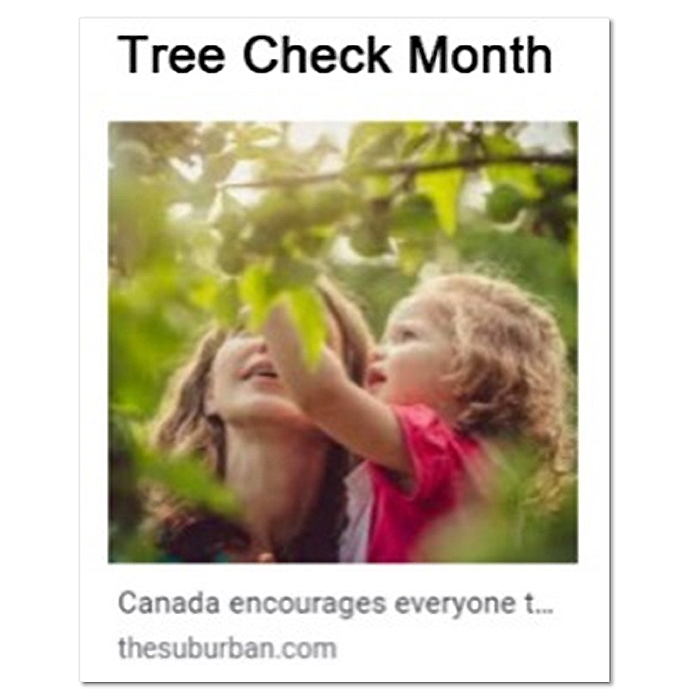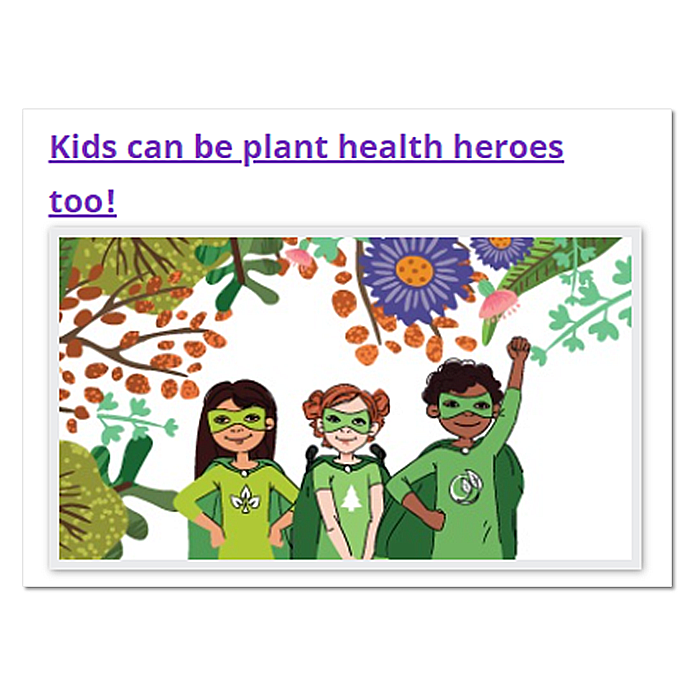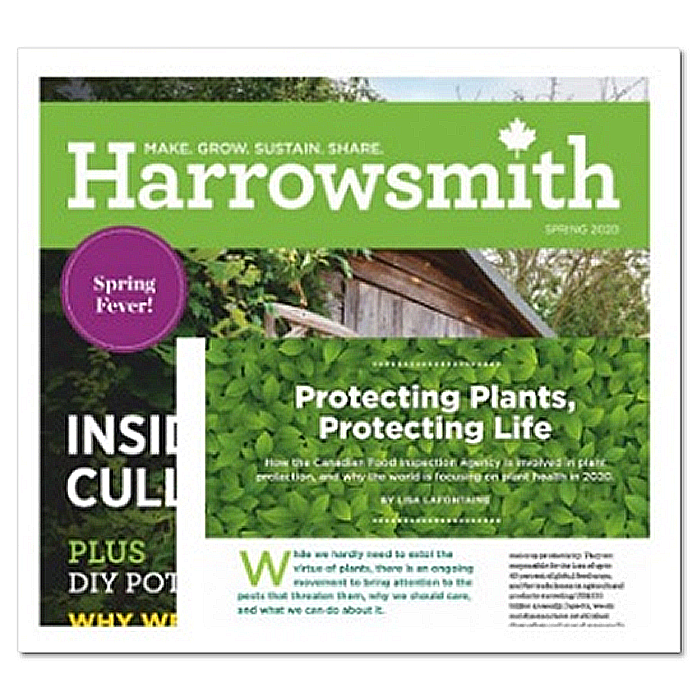 Collaboration continues at all levels in 2021 as we move toward our new celebratory year end date: 2021. In addition to supporting our new legacy for plant health communications in Canada, we are looking forward to the proclamation of the International Day of Plant Health.
Keep an eye out for our "green building" initiative. In collaboration with our NAPPO partners, we aim to light up some prominent public buildings and monuments in green for plant health and continue the conversation on social media.
---
United States
The U.S. national plant protection organization, the U.S. Department of Agriculture's Plant Protection and Quarantine (PPQ) program, launched a robust outreach effort for the IYPH. These efforts focused on social and earned media (i.e., stories we pitch to the press), as well as advertising, because nearly all face-to-face events in 2020 were canceled due to the pandemic.
IYPH Campaign
Jan.: Distributed an IYPH press release nationally to media outlets via Business Wire, resulting in 166 postings on online news sites with a total potential of 39.9 million unique visitors per month. We created a Hungry Pests IYPH landing page, added IYPH branding to our website, and shared the IYPH communications toolkit of the U.N.'s Food and Agriculture Organization.
All Year: Wrote and distributed a feature article on the IYPH to local newspapers across the country. It has appeared more than 4,000 times in print with an estimated readership of over 3.8 million. The article has also appeared as online news with a potential combined readership of nearly 53 million.
March – Aug.: Ran a series of visually compelling IYPH ads on Facebook and Twitter, generating nearly 10.8 million impressions. Spanish-language posts (June – September) generated over 3.4 million impressions.
Late July – mid-August.: Ran a Google Display Network (GDN) IYPH campaign nationally, generating over 11.7 million impressions.

Invasive Plant Pest and Disease Awareness Month Campaign with Strong Ties to IYPH
April: Conducted a radio media tour on April 22 and 23 with USDA spokesperson Executive Director Samantha Simon, securing 20 interviews with national programs; recorded an audio news release (ANR) with Simon for distribution to stations nationwide that aired on 261 stations with 436 total broadcasts; combined radio interviews and ANR resulted in an estimated 32.5 million potential impressions.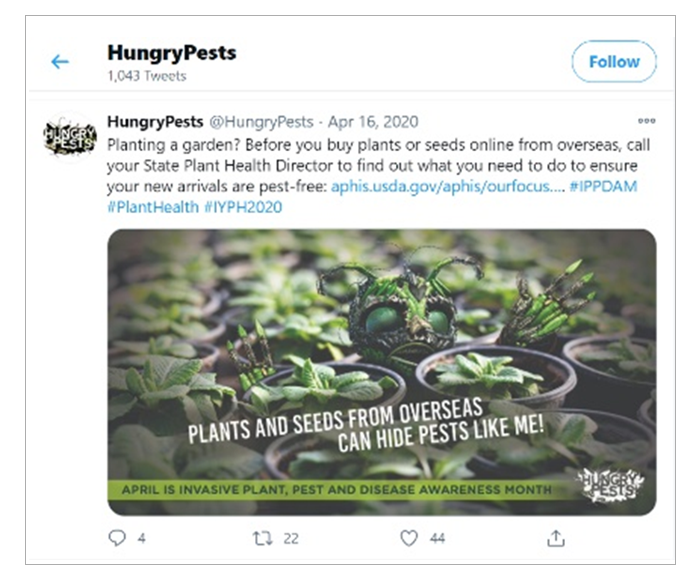 April: PPQ promoted IYPH throughout our celebration of April as Invasive Plant Pest and Disease Awareness Month (IPPDAM). IPPDAM informs the public about the threat of invasive pests and how the public can "leave hungry pests behind." During the month, we:
Created and distributed a national news release was distributed on Business Wire that appeared on 154 online news sites, resulting in a potential audience of 39.7 million unique viewers per month.
Ran a Facebook and Twitter ad campaign, generating 5.9 million impressions.
Ran our existing Spanish-language 60-second radio public service announcement, earning more than 4.8 million impressions.
Mail Invasive Pest Pathway Campaign with Strong Ties to IYPH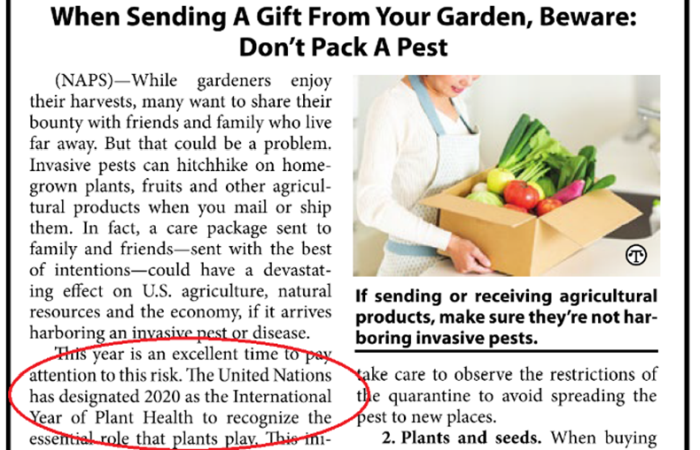 June – July: Conducted a mail pathway social campaign, generating more than 2.9 million impressions.
June – Dec.: Wrote and distributed a feature article to local newspapers nationwide about the potential of spreading invasive pests when mailing produce, plants, or seeds from home gardens. The article was distributed to newspapers across the country for print and online stories, generating more than 3,800 online news articles with a potential combined 52.9 million unique visitors per month.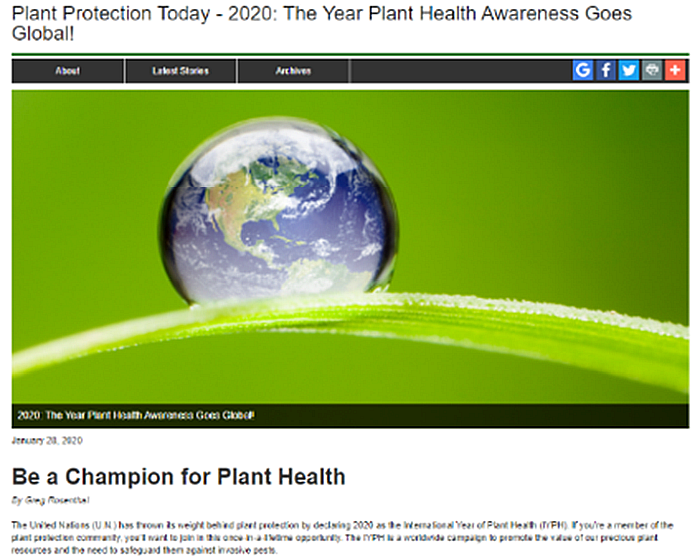 All Year: Published 13 IYPH-themed articles in our online external newsletter, Plant Protection Today, as a month series in 2020. Collectively, the stories received nearly 16,000 unique views during the year. Four of these articles and an IYPH-related USDA blog post were reprinted in Open Access Government, a digital publication with more than 391,000 readers, mostly in Europe and North America.
Other Social Media Posts
All Year: Posted a steady stream of Hungry Pests Facebook posts and Twitter tweets on the Hungry Pests and APHIS feeds with #PlantHealth and #IYPH2020 hashtags. Highlighted:
May: National Moving Month (for European gypsy moth)
August: Tree Check Month (for Asian long-horned beetle)
October: Firewood Awareness Month (for forest pests)
---
Mexico
Mexico's celebration for the International Year of Plant Health had the overall objective of increasing awareness among their citizens of the leading role that plant health plays in sustainable agriculture, in promoting economic growth which results in improvements to the well-being of the population. For this reason, Mexico's national plant protection organization (DGSV) designed several outreach campaigns to commemorate this important event.
On February 18, a breakfast was organized to commemorate Agronomist's Day, celebrated in Mexico on February 22. Over a thousand people attended the event, among them agronomists and other stakeholders from Mexico's agricultural sector. During the event, Mexico's President delivered a congratulatory virtual message to all the agronomists.(https://www.youtube.com/watch?v=EE6MCNtDVzU&feature=emb_logo )
From June 29 to July 3, 2020, a Forum commemorating 120 Years of Plant Health in Mexico, entitled "Healthy agriculture for human health and well-being", was delivered virtually through YouTube, Facebook, and SENASICA's website reaching over hundred thousand people. The event was organized by the Plant Health General Directorate.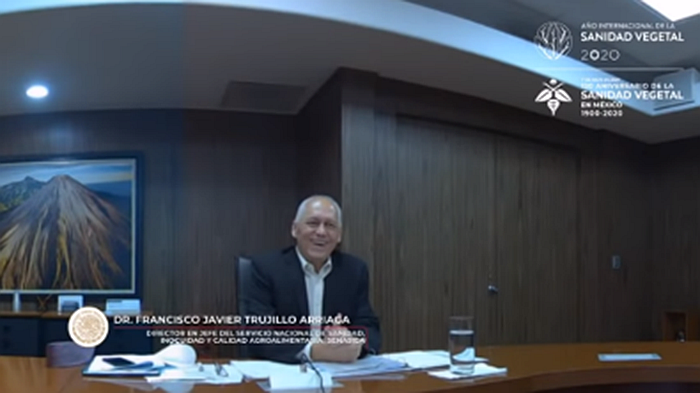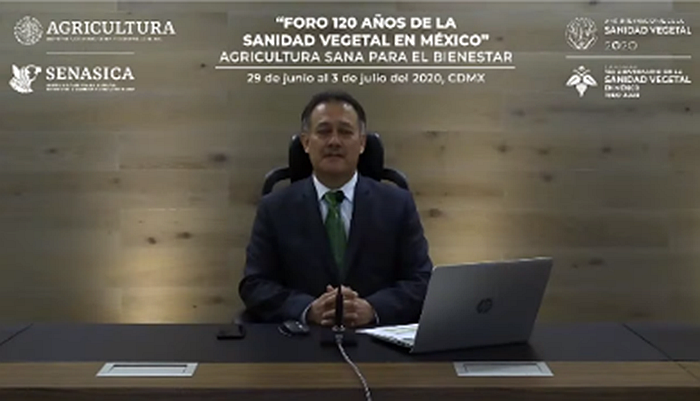 From June 20 to July 10th, several Mexican buildings and iconic monuments were illuminated in green in Mexico City and in the capital cities of states such as Guadalajara, San Luis Potosí, Chiapas, Campeche, Colima, Guanajuato, Guerrero, Nayarit, Puebla, Sinaloa, and Tabasco. These included the main SENASICA office in Mexico City and the facade of some State Plant Health buildings.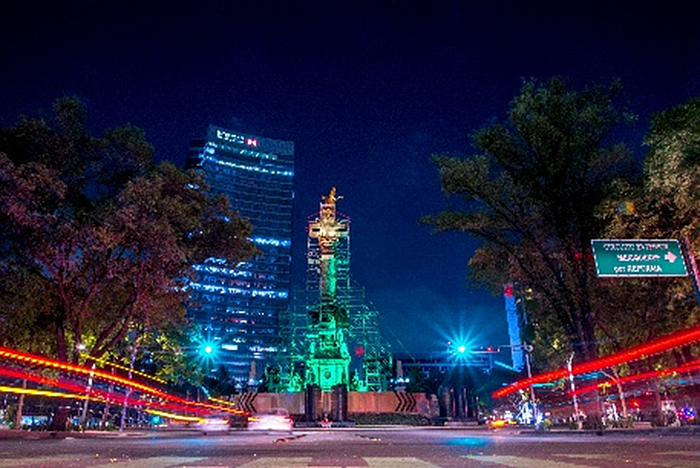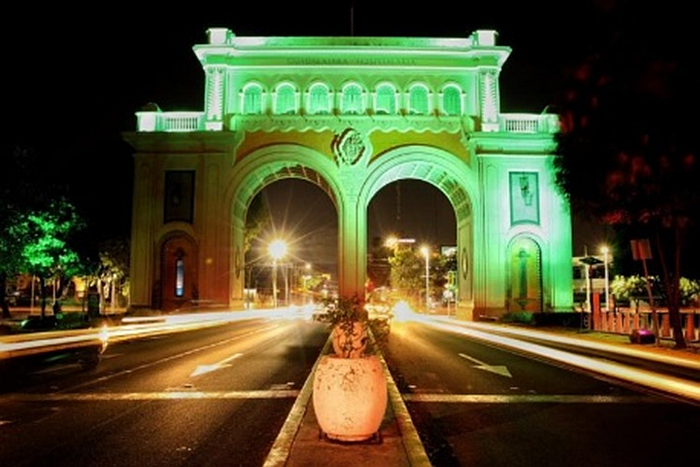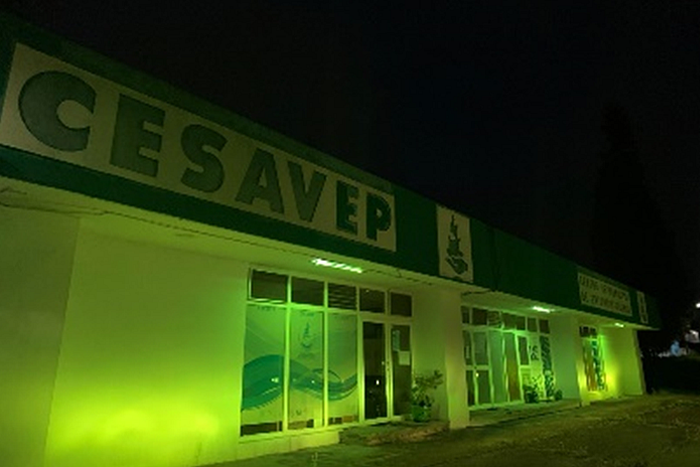 From July 1-10, we delivered a social media campaign "Dress up in green" ("Ponte la verde", in Spanish), using over 50 pictures, from all over the country, of people dressed in the color green to commemorate the Anniversary of Plant Health in Mexico celebrated on July 1.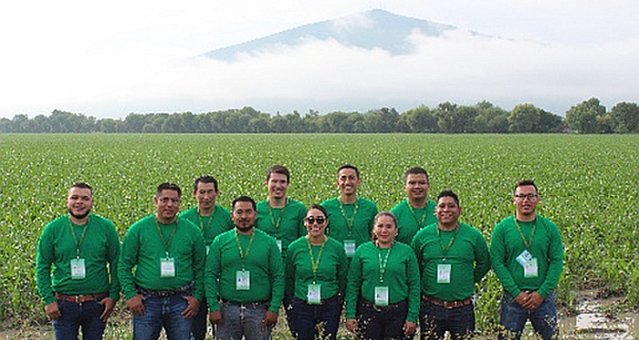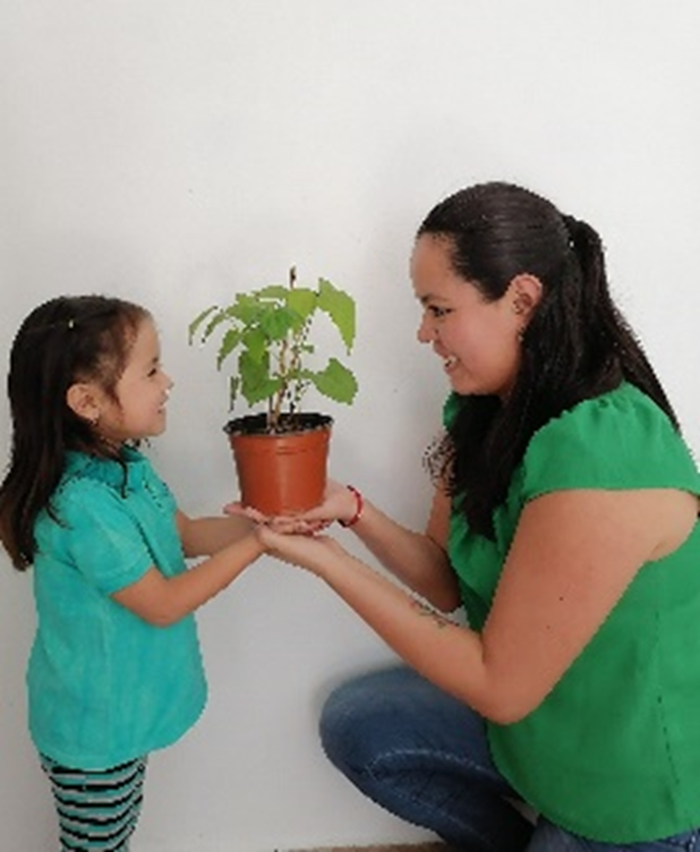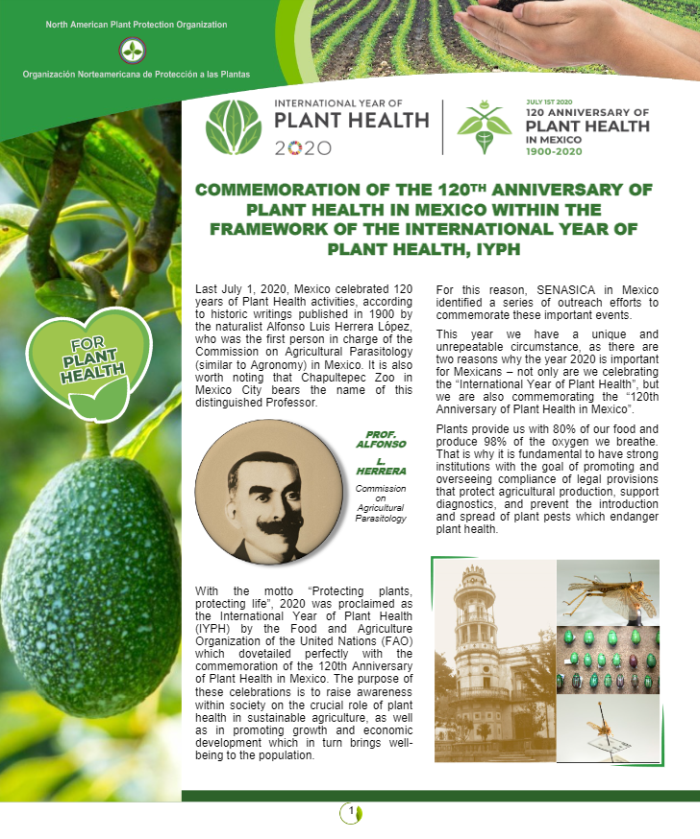 Also in July, the North American Plant Protection Organization (NAPPO) published a special edition of their newsletter highlighting the events organized by Mexico.
On July 26, the National Lottery used a commemorative plant health lottery ticket for their drawing.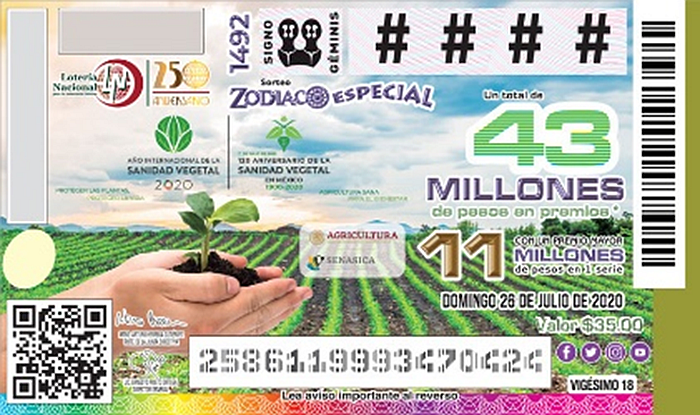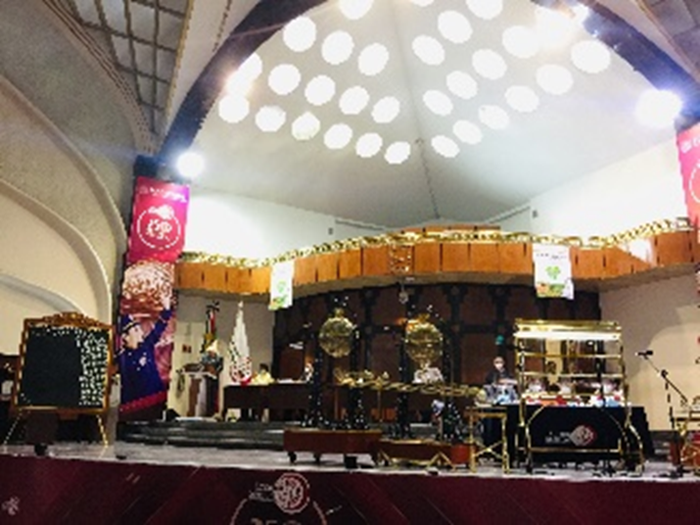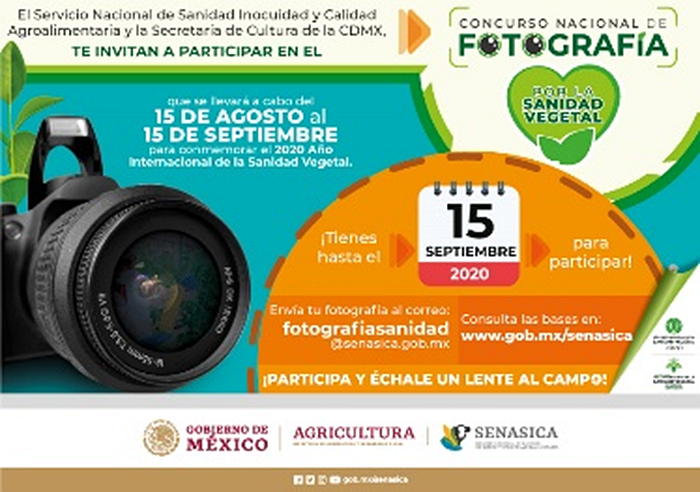 From August 15 to September 25, the National Photo Contest "For Plant Health" took place. Over 70 artists participated in the event.
On October 15 and 16, the 2020 Phytosanitary Forum on "Plant health: food security, the environment, and trade" was held, and on October 16 and 17, the 46th National Symposium "Protect plants, protect life" was delivered. Both events were hosted in person (at the Hotel Camino Real in Mexico City) as well as virtually and were aimed at growers, packers, industry stakeholders, and the general public.
On October 21, we held a virtual Forum on the "Importance of Plant Health" organized by the National Agriculture Council (CNA) aimed at congressmen and senators, lawmakers and authorities in charge of the approval of public policies for plant health.
On November 11, we inaugurated the exhibition of the National Photo Contest "For Plant Health", at Avenida Paseo de la Reforma in Mexico City, which remained on display until November 19.
From Nov 11-13, we held the Forum on the Impacts achieved through Science, aimed at the scientific and academic communities and with participation of members of plant health related scientific societies.
From November 15 to date, there has been an exhibition on the importance of plant health at the "Juárez" subway station in the City of Guadalajara.
From November 15 to date, there has been an exhibition on the importance of plant health at the "La Villa" subway station in Mexico City.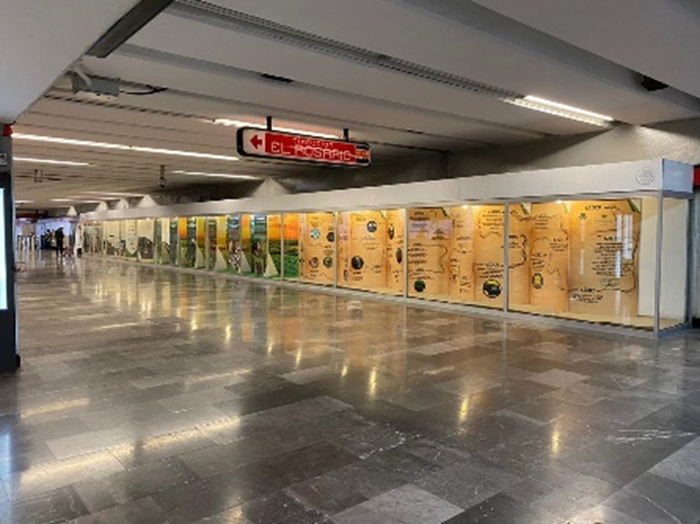 Throughout the year, we were virtually present and regularly disseminated information using SENASICA's social media, through the following platforms:
Instagram: 12 topics related to the history of plant health in Mexico, reaching 29,645 impressions/clicks.
Facebook: 34 different plant health related materials were published (postcards, videos, animated images), reaching 327,689 impression/clicks.
Twitter: 34 different plant health related materials were published (postcards, videos, animated images), reaching 33,479 impressions/clicks.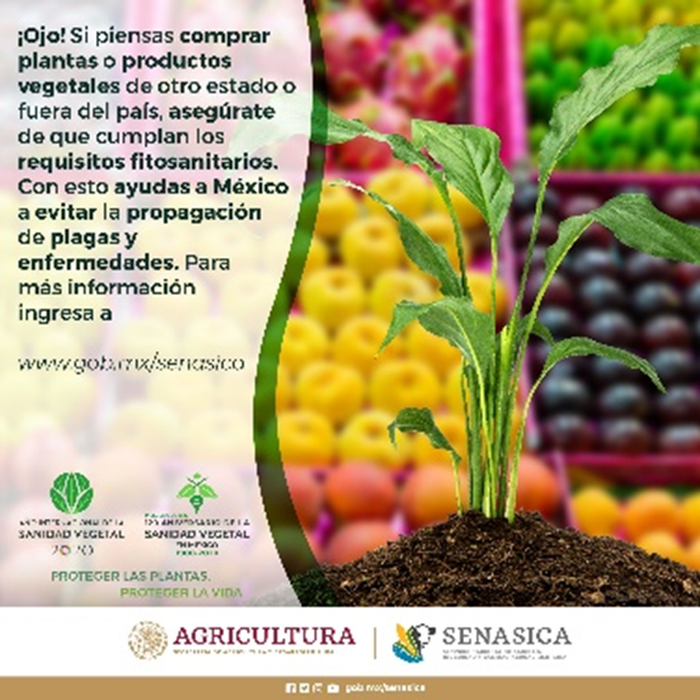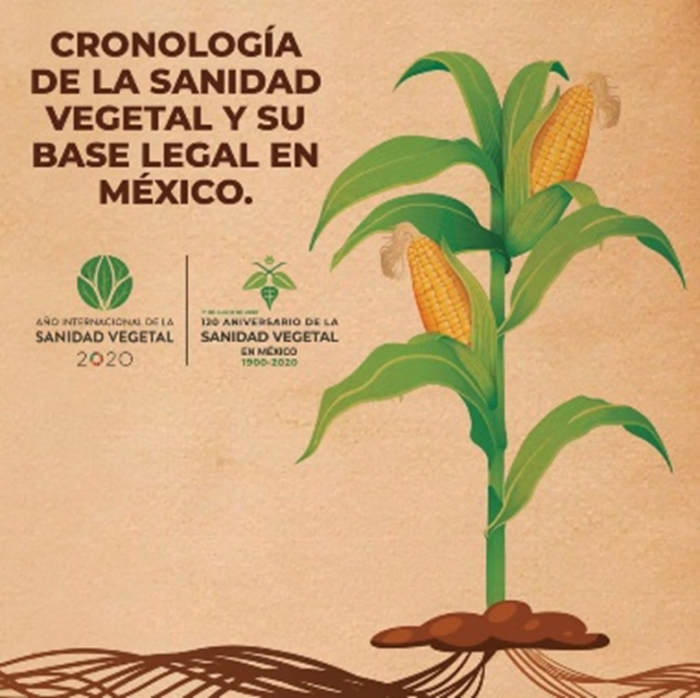 Lastly, a commemorative medal and 3 videos featuring the 120th Anniversary of Plant Health in Mexico were minted/developed.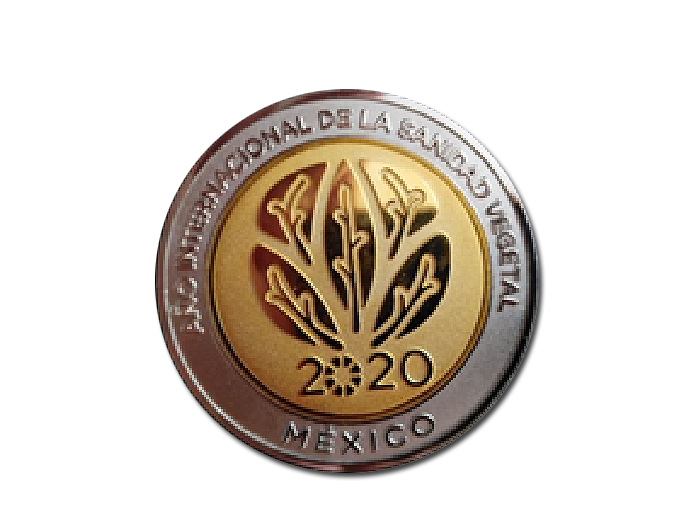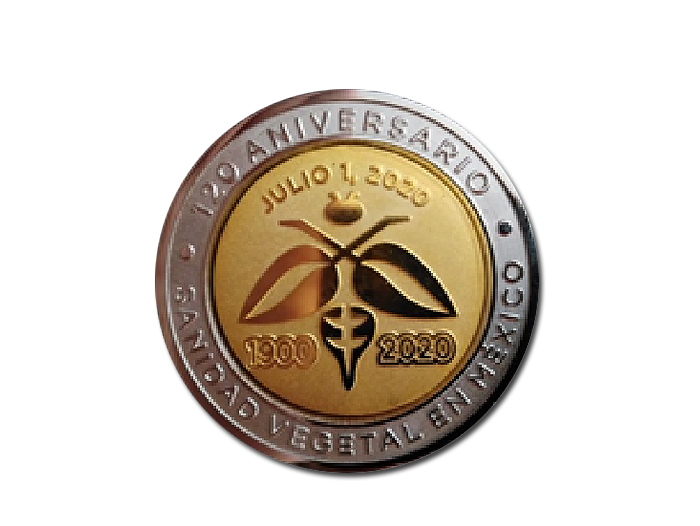 Three radio interviews about the International Year of Plant Health and the National Photo Contest were given to local media.
Six newsletters on the International Year of Plant Health and the activities programmed for 2020 were duplicated in 88 national media.
In addition, 35 news bulletins on several plant health related topics were published throughout the year.
These actions reaffirm Mexico's commitment to the international community to collaborate in fighting agricultural pests and prevent their introduction and spread. This role afforded Mexico the honor to chair the International Plant Protection Convention (IPPC), be a member country of the North American Plant Protection Organization (NAPPO) as well as of the International Regional Organization for Plant and Animal Health (OIRSA).
The commemoration of the IYPH was extended to June 2021 which calls us to further reflect on the importance of the agricultural sector in feeding the world, preserving the environment, promoting development in rural communities, and eliminating poverty and hunger.
Regional Efforts
The NAPPO countries have been promoting each other's IYPH messages via social media. And NAPPO's Expert Group on IYPH outreach and education has been promoting the year at the North American regional level. The group has been publishing articles on NAPPO's work to protect North America and the rest of the world against the threat of invasive plant pests and diseases, and to facilitate safe trade. You can find the articles on NAPPO's Regional IYPH Contributions web page. Enjoy!